Don't miss Expo Mom this year! It is not your regular bazaar. We showcase the latest in mom and baby products and services, from new brands that have been recently launched, to latest mompreneur inventions, to new stuff that have just come in from abroad.
Expo Mom 2012 is co-presented by Shop Mommy Matters, Philippine Association of Childbirth Educators (PACE), GlaxoSmithKline, Anmum, Sweet Baby Diapers and Goldilocks. Sponsors include CordLife Philippines, Cycles Mild Detergent, Cradles, Samsung, Havaianas. Also supported by Crystal Clear, Tiny Buds, Lactacyd Baby Bath and PLDT. Media Partners include Manila Bulletin, Sense & Style Magazine, Style Weekend, Working Mom Magazine, Lifestyle Network, Smart Parenting, Multiply.com Breakfast Magazine and Crossover 105.1 FM, and Mommy Mundo publications: Urban Mom Magazine, Mommy Pages and MommyPages.com.ph
100% of Expo Mom's registration fees is for the benefit of MomShare's Toy Library Project. Learn more about MomShare.
Expo Mom 2012 Manila
WHEN: May 5-6, 2012 (Sat/Sun)
WHERE: Rockwell Tent, Makati City
Location Map – How to get to Rockwell Tent
Programme Schedule
| | | |
| --- | --- | --- |
| MAY 5, 2012 (SATURDAY) | ACTIVITY | PRESENTED BY |
| 10:00AM | Formal OpeningWelcome portion & video showing: What Makes Expo Mom Special | Mommy Mundo |
| 11:00AM | Sponsor's Portion: GlaxoSmithKline (Code: GLAXO) | GlaxoSmithKline |
| 11:30AM | Green Mom: Anna Meloto-Wilk talks about being a Pro-Environment, Eco-Conscious Mom (Code: GREEN) | Anna Meloto-Wilk of Gawad Kalinga & Human Nature |
| 12:30PM | Belly Blessed Mom: Childbirth educator Rome Kanapi on Lifestyle Changes During Pregnancy, and How to Make a Birth Plan (Code: BELLY) | Rome Kanapi |
| 1:30PM | Babywearing Mom: Next 9?s Jen Tan & Mama Baby Loves' Jenny Ong on Babywearing Basics (Code: BABYWEARING) | Jen Tan and Jenny Ong |
| 2:00PM | Sponsor's Portion: Learn about oral thrush (singaw) and Discover Ways to Treat It That's Best For Your Kids (Code: ORAL) | Daktarin |
| 3:00PM | Sponsor's Portion: A Talk on How to Safeguard Your Baby's Health Through Umbilical Cord Banking by Dr. Alvin Faundo (Code: CORDLIFE1) | Cordlife Philippines |
| 4:00PM | Meet Mommy Matters' Real Moms Eliza Ypon, Martine de Luna, Kris de Guzman and Paola Loot (Code: MOMMYMATTERS) | Mommy Matters |
| 5:00PM | Hands-On Mom: Parenting Expert Maribel S. Dionisio's talk on Back to Basics Parenting in Modern Times (Code: HANDSON) | Family Congress' Maribel Dionisio & Marichel Alignay |
| 6:00PM | Expo Mom Hang Out: Live Acoustic Music on the Expo Mom Stage | |
| 8:00PM | Expo Mom Day 1 closes | |
| MAY 6, 2012 (SUNDAY) | ACTIVITY | PRESENTED BY |
| 10:00AM | Expo Mom Day 2 opens | |
| 11:00AM | Tech Mom: Jen Tan on Time Management for Moms of Today (Code: TECH) | PLDT |
| 11:30AM | Fit Mom: Zumba Demo! (Code: FIT) | Rowena Aquino-Jose of Zumba Fitness |
| 2:00PM | Hands-On Mom: A Talk by Homeschooling Moms (Code: HAPI) | Hapi Homeschooler |
| 3:00PM | Sponsor's Portion: A Talk on How to Safeguard Your Baby's Health Through Umbilical Cord Banking by Dr. Alvin Faundo (Code: CORDLIFE2) | Cordlife Philippines |
| 4:00PM | Breastfeeding Mom: Breastfeeding Tips for Moms-on-the-go (Code: BREASTFEEDING) | |
| 4:30PM | Mompreneur: Multiply.com's most active Mompreneurs share their tips and stories (Code: MOMPRE) | Multiply.com |
| 8:00PM | Expo Mom 2012 closes | |
List of Exhibitors
| | | |
| --- | --- | --- |
| Aeonyx Marketing | Ambishoes | Baby & Beyond |
| Baby Shower Studio | Bambino | Bug & Kelly |
| Bulilit Bookstore | Cast & Frame | Chabby |
| Chubby Cheeks | Celestina & Co | Eco Baby |
| Eco Kids | Fancy Ava | Fawn Shoppe |
| Fiddle Tops | Googoo & Gaga | Hatch & Latch |
| Healthy Innovation | HAPI Homeschooler | Hurom Juicer |
| Indigo Baby | Junk Not | Kiddie Tunes |
| Lassig | Little Darla Couture | The Little Red Shoe |
| M'Shoppe | Mama Baby Love | Manila Baby Shop |
| Medela Moms Inc. | Mom Baby Fabric | Mommy Matters |
| Momtrepreneur Shop | Mustela | My Soul Sister |
| Natural Origins | Omma OrganicsSnuza | Organic Baby |
| Pacquet de Joie | Partezeit | Philips Avent |
| Princess & Tutus | Simple Bundle of Joy | Spinkie |
| Starkids | The Stork Studio | Sweet Baby |
| TCL Worldwide | Therapy Bags | Tiny Tots |
| Tip Tap | Tomatoberry | Tootsie Shop |
| Tot Couture | Two Tots | Tyler Marketing |
| Zhazhiki | Silly Monkey Clothing | |
Corporate Exhibitors
| | | |
| --- | --- | --- |
| Citibank | Sunlife Financial | Bank of the Philippine Islands |
Food Booths
Floor Plan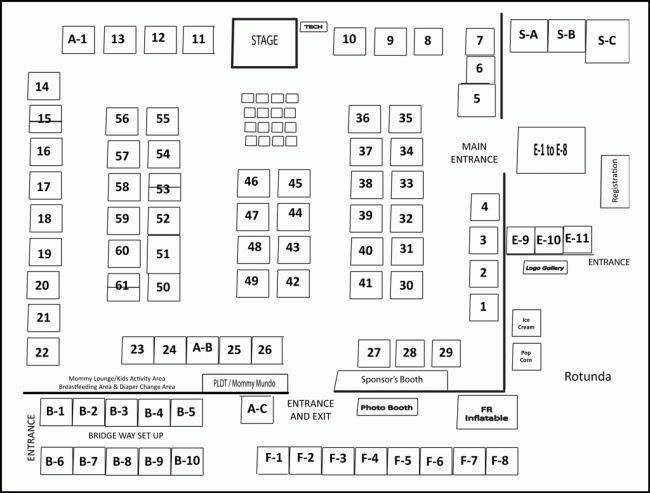 Download the Expo Mom 2012 Floor Plan in PDF format