Mommy Mundo's Mom Manifesto Campaign:
Be a Mom with a Mission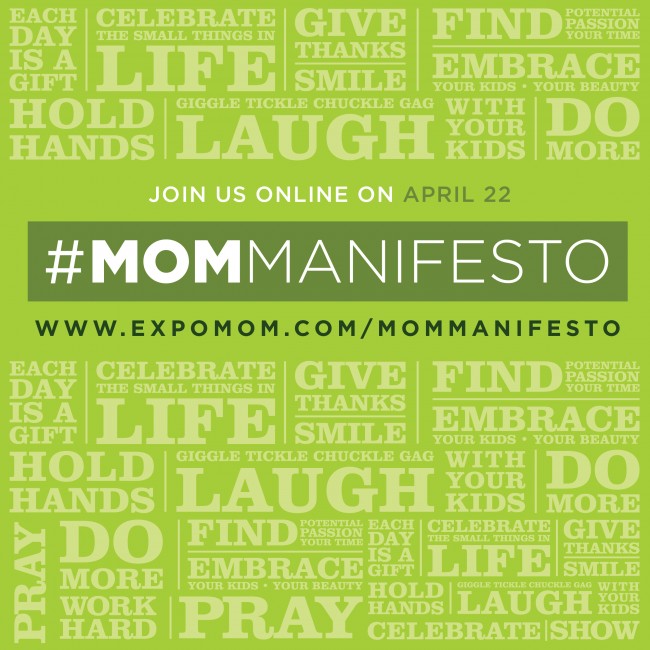 [one_third][button url="#howtojoin" size="medium"]How Moms Can Join[/button][/one_third]
[one_third][button url="#schedule" size="medium"]Full Schedule[/button][/one_third]
[one_third_last][button url="#contest" size="medium"]#MomManifesto Contest[/button][/one_third_last]
[button url="#worksheet" size="large"]WORKSHEET HERE[/button]
There are 24 hours in one day. Of those 24 hours, how many do you spend on your hobbies and interests? How many do you devote to taking care of yourself? How many do you allot to finishing pet projects and pursuing life goals? We venture that they're not too many.
Moms naturally put everybody else's interest before their own. They take care of the children, manage the home, and nurture their relationship with their partners. They become too caught up in taking care of everybody else's needs and wants that it's not uncommon for moms to get burned out. They give so much of themselves that eventually, they find themselves weak, exhausted, depleted.
ONLY 15 MINUTES A DAY. JUST FOR YOUR SELF.
Mommy Mundo's Mom Manifesto campaign hopes to give moms a fresh perspective on life by helping them focus on the important and discover their sense of purpose. Through a series of online workshops, each needing only 15 minutes to complete, moms are given the tools to gain a more insightful knowledge of themselves—their daily routine, family history, parenting style, goals, and interests. T
DESIGNED BY AN EXPERT
he workshops were designed by Michele Alignay, MA, Parenting, Relationship, and Family Life Specialist and Certified Psychologist, and Janice Villanueva, Mommy Mundo Founder.
A JOURNEY TOWARDS MINDFULNESS
The campaign also hopes to put the spotlight on mindful parenting. All too often, moms just go through their daily responsibilities as moms, homemakers, mompreneurs or career women without finding reason nor fulfillment in her days. Being more mindful of their actions will not only allow them to prioritize their tasks, it will also help them find pleasure and delight in moments big and small, and also help them focus on tasks to help them achieve the kind of life they aspire for.
YOUR OWN MANIFESTO. YOUR OWN MISSION.
By the end of the series, the participating mom will be able to come up with her own #MomManifesto, a statement of her mission in life, her goals and priorities, her hopes and dreams, her guiding statement for motherhood. The Mom Manifesto is her mommy mission come to life. It will serve as her beacon, a light to guide her through her life journey, allowing her to be mindful of her every thought and deed, making sure each contributes to her life's purpose.
JOIN US HERE.
Be a mom with a mission! Join Mommy Mundo's Mom Manifesto campaign beginning April 22.
How Moms Can Join #MomManifesto
The Mommy Mundo Mom Manifesto online workshop begins on April 22, 2015 right here at www.expomom.com/mommanifesto.
After April 22, a downloadable worksheet will be posted on the Expo Mom website every Friday.
Download the sheet from the website and print it out.
It will only take a minimum of 15 minutes for you to complete the activity, which you can accomplish wherever she maybe. If you will need more time, feel free to appropriate more minutes in your day as you wish.
Try to complete the activity by Monday.
If you wish to join in the online campaign, post your learnings online through your social media accounts as a way of encouraging and inspiring other moms to get to know themselves better. You may post a photo or your worksheet or any inspiring photo in your posts.
Please tag your posts @mommymundo and use the hashtags #mommanifesto and #expomom2015 so you can be counted in the #MomManifesto contest and get a chance to win an Expo Mom shopping spree. (contest details on expomom.com/mommanifes#contest)

ACTIVITY SCHEDULE
Within the five weeks, there will be a total of five activities plus one final session. Activities wil be available for download on the following dates.
| | |
| --- | --- |
| Date | Activity |
| April 22 | #MomManifesto online launchActivity 1: The Mundo of a Mom |
| April 24 | Activity 2: My Roots |
| May 1 | Activity 3: Parenting Life |
| May 8 | Activity 4: My Interests and Goals |
| May 15 | Activity 5: Mindfulness and Well-being |
| May 20 | Create my #MomManifesto |
The final activity will guide moms in formulating their own Mom Manifesto. Print it out and post in the #MomManifesto Wall to share with fellow moms at Expo Mom on May 22 to 24, 2015 at the Glorietta Activity Center in Makati City. If you cannot make it to the expo, you can also share your statements online to join in the celebration!
Mindfulness has its Rewards
The #MomManifesto Contest:
Are you ready to take on a mission, mommy? It's going to be quite exciting, and at times, nerve-wracking. It will require you to put on your thinking cap, do a bit of drawing, some computing, and a whole lot of analyzing, but at the end of it all, you will be a changed woman! And yes, it is a mission that's totally possible!
Mommy Mundo invites you take a five-week journey of mindfulness and self-discovery through our Mom Manifesto campaign, a series of online workshops, including a pop quiz and a drawing exercise, to help moms discover their mission in life and formulate their Mom Manifesto statement.
Here's how to join the contest:
The #MomManifesto campaign begins on April 22 online at expomom.com/mommanifesto.
Every Friday, starting April 24, a downloadable worksheet will be posted on the Mommy Mundo website.
After printing it out, it will only take 15 minutes for moms to complete the activity, which she can accomplish wherever she maybe.
Participants will be asked to complete their assignment by Monday.
There will be a total of five activities plus one culminating session, the final session be posted on May 22, 2015.
At the Expo Mom event, she can post her Mom Manifesto sheet on the Statement Wall and join fellow moms as we shout out mommy mission!
Eligibility:
Moms who join the workshop will be encouraged to post an inspirational photo or updates of her Mom Manifesto journey on her social media accounts (Facebook, Twitter or Instagram), making sure to tag @mommymundo, use the #mommanifesto and #expomom2015 hashtags and set the account to public until May 24. For her to be eligible, she must have at least two (2) posts about the activity within the 5week period.
She can encourage five mom friends to participate by tagging them in the posts.
What's at stake:
By sharing her journey, she will get a chance to win a P10,000 shopping spree at Expo Mom 2015, the biggest gathering of its kind showcasing the latest in family-oriented product innovations and parenting trends, which is happening at the Glorietta 2 Activity Center from May 22 to 24, 2015.
Five (5) Consolation prizes will be awarded.
Terms:
The contest is open to all moms who are residents of the Philippines. Expectant moms may also join.
Only posts made from April 22 to May 20 will be counted.
Winners will be drawn via Rafflecopter on May 21 and announced on Mommy Mundo's social media accounts on May 22.
Winners will be contacted via their social media accounts and will be given instructions on how to claim their prize.
The grand prize must be claimed personally by the winner in Expo Mom 2015 on May 22-24 at Glorietta 2 Makati.
Should the grand prize winner be unable to attend the expo to personally avail of her shopping spree, she will be awarded P10,000 worth of Mommy Mundo's top mom picks products to be selected by Mommy Mundo. Mommy Mundo reserves the right to select products for the winner based on quality and availability.
Winners must present 2 government issued IDs to claim their prizes.
Should the winner not respond to messages within thirty (30) business days, the prize will be forfeited.
START THE JOURNEY
CREATE MY #MOMMANIFESTO



---
---
WORK ON THE FIFTH ACTIVITY BY CLICKING ON THE BOX BELOW:

---
WORK ON THE FOURTH ACTIVITY BY CLICKING ON THE BOX BELOW:

---
WORK ON THE THIRD ACTIVITY BY CLICKING ON THE BOX BELOW:

---