Spiffies Tooth Wipes is one pediatrician's answer to what the American Academy of Pediatrics officially considers an epidemic rise in early childhood tooth decay and a revolutionary new approach to oral health. It's a disposable, convenient towelette that simply wraps around your finger, making it easier than ever before to clean your child's teeth and gums. Once they get older, kids switch to Spiffies I Can Brush Tooth Gel, which is an alternative to the traditional fluoride toothpaste.
Spiffies are ultimately so effective because of their high concentration of the main ingredient, xylitol, a naturally occurring sweetener. Xylitol has been proven to significantly reduce tooth decay rates by reducing harmful bacteria that have also been shown to cause sinus infections, allergies and asthma.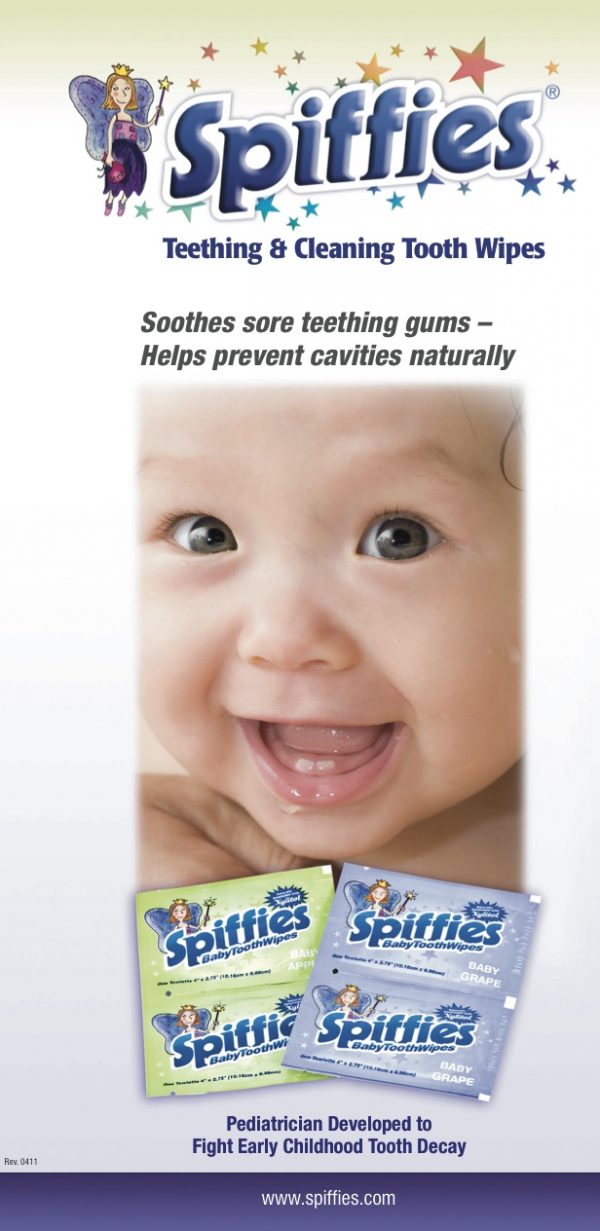 Spiffies has been clinically proven to reduce cavities by up to 72% with regular use, and are uniquely designed to help parents clean their children's teeth in a comforting, enjoyable, and pain-free way. The nubby texture provides a soothing massage on infant gums that can ease teething pain and also effectively scrubs away plaque, and the naturally sweet flavors create a positive experience with oral health that can last a lifetime.
Spiffies was invented by Dr. Ray Wagner, a board-certified pediatrician of the American Academy of Pediatrics, who has seen lots of early childhood tooth decay caused by sugary fruit juices, carbs and infants sucking on bottles when they're put to bed. The U.S. Centers for Disease Control & Prevention says early childhood caries (or baby bottle tooth decay) is "perhaps the most prevalent infectious disease of our nation's children." Many people still believe that the baby teeth are not so important because the child is going to lose them anyway. In reality, the baby teeth are crucial for proper nutrition and the development of normal speech.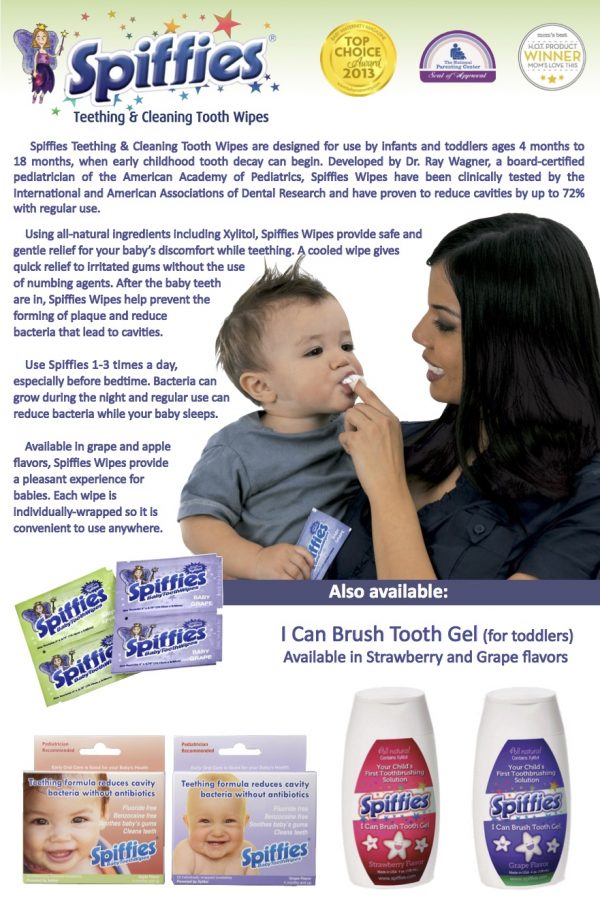 With Spiffies, parents now have a convenient, safe and effective way to clean their infant's teeth and prevent cavities. Spiffies is made in the USA and has been clinically tested by the International & American Associations of Dental Research.
Check out SPIFFIES at the Crescom/ Belly Armor booth at ExpoMom!