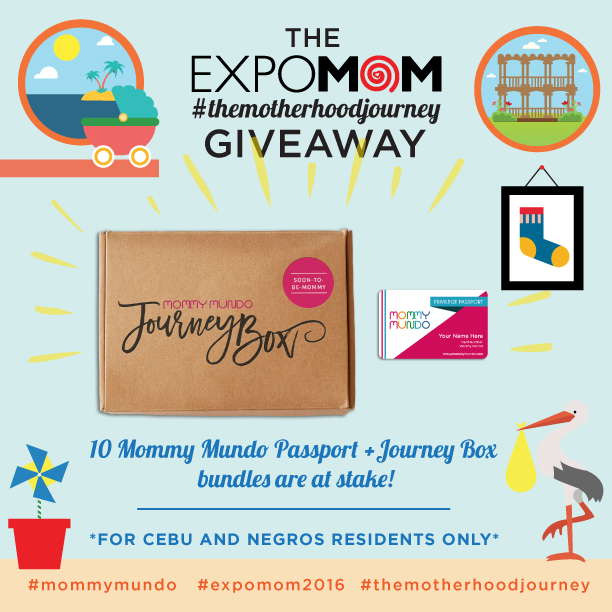 We moms love telling stories about our days, our birth, our kids, and we'd like to hear from them! Sharing our mom stories online helps us learn from each other, get inspired and just makes us realize how we are all on the same boat on this adventure called motherhood.
We ask moms to share their #themotherhoodjourney stories with us online to get a chance to win a Mommy Mundo Passport x Journey Box Bundle!
Contest Mechanics:
1.Follow Mommy Mundo on FB, IG, and Twitter (1pt)
2.Follow Expo Mom on IG (1pt)
3. Share your motherhood story by posting a personal photo and telling us about your
motherhood journey. Tag @mommymundo and @expomom. (3pts)
4.Share the Expo Mom poster, and say that you are going to Expo Mom Cebu or Negros tag
@mommymundo and @expomom, and invite 3 of your mom friends to come with you
(2pts)
5.In all posts, use these hashtags #themotherhoodjourney #expomom2016
#mommymundo Make sure to set your account to public until June 25.
Terms and Conditions:
1. 10 winners will be selected randomly via Rafflecopter. Winners can get the Mommy Mundo Passport x Journey Box Bundle!
2. Contest is open to all residents of Cebu and Negros.
3. Posts will be counted and awarded points manually then raffled off via Rafflecopter
4. Winners will be asked to pick up their prizes at the event venue and will need to present 2 valid IDs. If they are unable to pick up personally, they must provide the representative with an authorization letter and the two valid IDs.
5. Prizes must be picked up at the event venue on June 18 and 25. Prizes may be sent via courier or delivery but costs will be shouldered by the winner.
6. Unclaimed prizes after 60 days will be re-drawn for a new winner
Expo Mom 2016: The Motherhood Journey is co-presented by Caltrate Plus and Belo Baby
and supported by Sun Life and Downy Baby Gentle. Creative Juice Communications is its logistics partner.
Entrance at Expo Mom is free of charge but a donation of any amount will be accepted for the Mommy Mundo MomShare fund. Proceeds of the fund goes to literacy projects for the street children of Childhope Asia and public school kids under the Alpabasa program.
Expo Mom is the banner event of Mommy Mundo, a community dedicated to educating, inspiring, and empowering moms with useful, relevant, and up-to-date information.
For info and queries on Expo Mom, email info@mommymundo.com